Friday 31 July 2015
Welcome to my tour stop for
Confessions of a Queen B by Crista McHugh
About The Book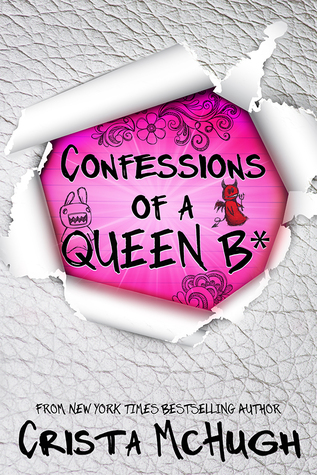 Confessions of a Queen B
by Crista McHugh
Series:
The Queen B #1
Release Date:
July 28, 2015
Genre:
YA Contemporary Romance
Buy It Now:
Amazon
|
Barnes & Noble
Alexis Wyndham is the other type of Queen B—the Queen Bitch.




After years of being the subject of ridicule, she revels in her ability to make the in-crowd cower via the exposés on her blog, The Eastline Spy. Now that she's carved out her place in the high school hierarchy, she uses her position to help the unpopular kids walking the hallways.




Saving a freshman from bullies? Check.

Swapping insults with the head cheerleader? Check.

Falling for the star quarterback? So not a part of her plan.




But when Brett offers to help her solve the mystery of who's posting X-rated videos from the girls' locker room, she'll have to swallow her pride and learn to see past the high school stereotypes she's never questioned—until now.


~ Review ~
Confessions of a Queen B is an enjoyable, entertaining and light read and I devoured it quickly but I wasn't a huge fan of the ending, but being a series I can understand this, and I am still looking forward to reading the consecutive books to the series.
Alexis Wyndham became Queen B soon after she was betrayed by her ex best friend who also happens to be the Queen Bee in her school. Everyone fears Alexis as she exploits scandalous events at school in her blog, The Eastline Spy. Alexis isn't concerned with making friends, she enjoys the fear that others have of her, she doesn't get picked on, and she lives her own life without the need for friends, but when she has the popular, gorgeous, Quarterback and High School sweet-heart trying to win her friendship she soon finds that she's not as tough as she thought she was.
Confessions of a Queen B is truly an entertaining read, it was filled with humour and sarcasm and I really enjoyed Alexis personality and the growing friendship between her and Brett. I enjoyed the depth of the characters, mostly Alexis and Brett. I liked how Brett wasn't perfect and that brought it to a more realistic level.
Another part of Confessions of a Queen B that I really liked was the blog posts from The Eastline Spy at the start of each chapter, being a blogger myself this really kept me entertained and interested and it gave me more of an insight on why people feared Alexis and also a little bit more about what type of kids Alexis went to school with, what happened at school etc. I found this writing technique to be fantastic and captivating.
Confessions of a Queen B is truly a light and fluffy Contemporary YA novel that I thoroughly enjoyed reading. The use of blog entries allowed me to be more personally connected with Alexis, and the relationship between Alexis and Brett was well felt. I liked the main characters, but I only gave it 3 stars because I didn't feel that the book ended with much resolution, however, I do understand it's a series and I enjoyed it enough that I'm really looking forward to reading the next book in the series.
About the Author
Crista McHugh
Growing up in small town Alabama, Crista relied on story-telling as a natural way for her to pass the time and keep her two younger sisters entertained.
She currently lives in the Audi-filled suburbs of Seattle with her husband and two children, maintaining her alter ego of mild-mannered physician by day while she continues to pursue writing on nights and weekends.
Just for laughs, here are some of the jobs she's had in the past to pay the bills: barista, bartender, sommelier, stagehand, actress, morgue attendant, and autopsy assistant.
And she's also a recovering LARPer. (She blames it on her crazy college days)
For the latest updates, deleted scenes, and answers to any burning questions you have, please check out her
webpage
.
Giveaway
a Rafflecopter giveaway
This event is brought to you by