Find Me...
Ratings
Monday, 16 July 2018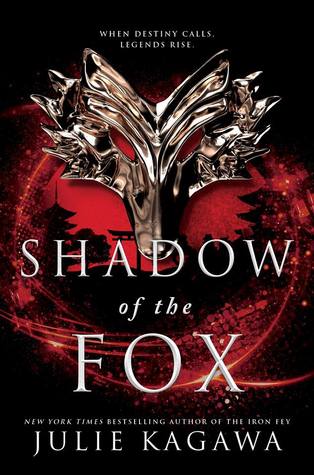 Shadow of the Fox
Released: October 2, 2018
Every millennium, one age ends and another age dawns...and whoever holds the Scroll of a Thousand Prayers holds the power to call the great Kami Dragon from the sea and ask for any one wish. The time is near...and the missing pieces of the scroll will be sought throughout the land of Iwagoto. The holder of the first piece is a humble, unknown peasant girl with a dangerous secret.

Demons have burned the temple Yumeko was raised in to the ground, killing everyone within, including the master who trained her to both use and hide her kitsune shapeshifting powers. Yumeko escapes with the temple's greatest treasure—one part of the ancient scroll. Fate thrusts her into the path of a mysterious samurai, Kage Tatsumi of the Shadow Clan. Yumeko knows he seeks what she has...and is under orders to kill anything and anyone who stands between him and the scroll.

A wish will be granted and a new age will dawn.





~ Paperback Princess Blurb ~
Welcome to Julie Kagawa's latest series; Shadow of the Fox. Atmospheric Japan, Japanese mythologies abound, unique set of characters, an arduous journey with magical elements, demons, Gods and beyond, wrapped up in this spectacular book cover.
Shadow of the Fox by Julie Kagawa is very much like Kagawa's other books; thrilling, adventurous, poetic, atmospheric and very well researched, there was nothing about this book that I didn't love.
Let's talk about the best thing about this book. Have you ever been to Japan? I personally haven't, but now, after reading this book, I feel like I have. Julie's writing truly takes you there; the wind, the leaves overhead, the dangerous path, the beautiful buildings, the fashionable kimonos, you see, feel, hear it all! That's how descriptive this book is. This book is so beautifully written, each passage is poetic that I can't even describe the perfection that is Shadow of the Fox.
...absolute power can corrupt even the purest of hearts. Such is the folly of men.
We follow such a unique cast of characters as they go on a perilous journey, sharing a united goal of possessing a magical scroll that calls upon a Kami (phenomena that's worshipped) dragon who will grant one wish to the beholder of the scroll, however, their motives all vary, from selflessness to selfishness to orders from above.
Yumeko is a kitsune (fox) who holds one piece of the scroll, unbeknown to her travelling companions. She is burdened with the responsibility of protecting and transporting the scroll when the temple that she had grown up in was attacked by demons, demons who were hired to acquire the scroll that she now has in her possession.
Kage Tatsumi is a samurai warrior from the Shadow Clan, who carries a demon-possessed sword, which in turn allows him to have the power (harnessed within him and the sword) to slaughter demons. His mission was to find the scroll piece. Arriving too late, he meets Yumeko and agrees to travel and protect her, believing that by doing so, she will lead him to the whereabouts of the scroll.
...he really needs to try out new expressions or his face will crack from the strain.
We also have some secondary characters that were just as interesting as Yumeko and Tatsumi. Okame, a ronin. A ronin is a disgraced samurai who has lost their standing in society, not necessarily by their own means, but they are pretty much "orphaned" samurais who no longer serve a master. Okame's commentary was funny and entertaining, with an extremely sarcastic humour which I love and can appreciate.
Though I can usually offend by simply existing. It's a talent, I suppose.
The trio with their extremely different personalities evened each other out for a great and entertaining read. They become unlikely allies, who band together to fight ghosts, demons and even a royal samurai, to get to their destination, fulfilling their own individual goals.
The mythology in this novel is so well researched; each turn of the page you learn more and more about Japanese culture, superstitions and their myths and legends.
If you haven't travelled in awhile and would like to feel and see Japan with all it's stories and beliefs, Shadow of the Fox is the book that will take you there. It is an amazing introduction to this new series, and I for one cannot wait for the sequel! Pre-order your copy now so you can get this amazing book in your hands asap. I know I sound like an advertisement, but this book is truly my best read thus far in 2018.