Find Me...
Ratings
Monday, 8 October 2018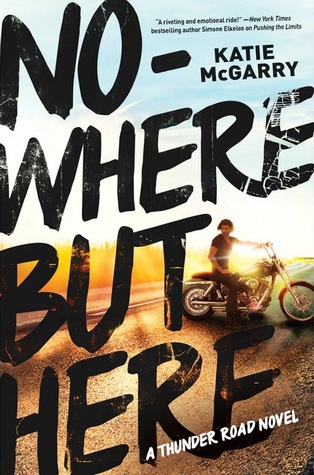 Nowhere but Here
by Katie McGarry
Series: Thunder Road #1
Released: May 26, 2015
Publisher:
Harlequin Teen
Genre: YA Contemporary Romance
Seventeen-year-old Emily likes her life the way it is: doting parents, good friends, good school in a safe neighbourhood. Sure, she's curious about her biological father—the one who chose life in a motorcycle club, the Reign of Terror, over being a parent—but that doesn't mean she wants to be a part of his world. But when a reluctant visit turns to an extended summer vacation among relatives she never knew she had, one thing becomes clear: nothing is what it seems. Not the club, not her secret-keeping father and not Oz, a guy with suck-me-in blue eyes who can help her understand them both.




Oz wants one thing: to join the Reign of Terror. They're the good guys. They protect people. They're…family. And while Emily—the gorgeous and sheltered daughter of the club's most respected member—is in town, he's gonna prove it to her. So when her father asks him to keep her safe from a rival club with a score to settle, Oz knows it's his shot at his dream. What he doesn't count on is that Emily just might turn that dream upside down.




No one wants them to be together. But sometimes the right person is the one you least expect, and the road you fear the most is the one that leads you home.
~ Review ~
Nowhere but Here is such a complex story that I don't even know how to begin. It's beyond a love story, it's a few stories told simultaneously but cleverly and neatly interwoven together in a meaningful and beautiful tale. It's a story of unconditional love and family, and what extent people take to keep family secrets buried to protect those that they love.
Emily is happy and content in her own little world, living with her Mother and Step-Father, she enjoys her uncomplicated life, but when her family receives news that her paternal biological Grandmother has passed away, she goes to Kentucky to pay her last respect to the Grandmother she never even knew existed, but when Emily's short visit extends to the whole summer, she is determined to fight this decision every step of the way, but she soon discovers that her black and white world isn't what it seems, and she must trudge through the grey to find the truth she so desperately seeks.
Oz is uncomplicated, he grew up being an unofficial family member of The Reign of Terror, a motorcycle club. So close to getting initiated into the club and Emily comes along and wrecks it for him in every sense of the word.
I will her to look away, but she doesn't and I'm secretly proud the girl won't back down. I hate this connection. I crave this connection. She's continually messing with my head.
Nowhere but Here is so much more than a love story between Emily and Oz, their love story is nearly secondary to the main story, or maybe I just felt that because it was the mystery that Emily was trying to solve. The main parts of Nowhere but Here that I really enjoyed was the cleverly written multiple story lines and how it interwove together in a fluid motion, tying it together at the end like a neat little bow.
Coming from a large extended family I really enjoyed reading about the family dynamics within The Reign of Terror and I really liked how Katie did not stereotype the members but she was still realistic, it was a really refreshing and surprising take on a motorcycle clubs and I really fell in love with their "family", which brings me to the characters.
All that TV bull about how anyone who rides a bike is a felon – they don't understand what the club stands for. The club is a brotherhood, a family. It means belonging to something bigger than yourself.
While I enjoyed Emily and Oz in certain scenes and I love them together as a couple, they certainly were not my favourite characters individually. Emily was stubborn and her lack of insight sometimes became frustrating, then there was Oz, your typical bad boy who is reformed once he falls in love, but there was so many other characters to fall in love with!
I loved Olivia, she was definitely my favourite character, she was funny, vulgar, sarcastic but a beautiful woman with a big heart, I really don't think this story would have been the same without her.
Besides, you're a McKinley. We have fine asses. Be proud of your body, honey, it sags with time.
Nowhere but Here is a must read and remember your box of tissues as if you were anything like me, you'll be sobbing uncontrollably by the end.