Find Me...
Ratings
Thursday 1 November 2018
Welcome to my tour stop for Wind Rider by PC Cast! Wind Rider is the third book in The Tales of a New World series. Today I feel so privileged to have PC Cast here today answering a few of my questions. I'm a huge PC Cast fan from when she co-wrote with her daughter; The House of Night series. Thank you to Pan Macmillan Australia for allowing me to be part of this tour, I'm ecstatic over interviewing PC Cast!
About The Author
PC Cast
PC was born in the Midwest, and grew up being shuttled back-and-forth between Illinois and Oklahoma, which is where she fell in love with Quarter Horses and mythology (at about the same time). After high school, she joined the United States Air Force and began public speaking and writing. After her tour in the USAF, she taught high school for 15 years before retiring to write full time. PC is a #1 New York Times and #1 USA Today Best-Selling author and a member of the Oklahoma Writers Hall of Fame. Her novels have been awarded the prestigious: Oklahoma Book Award, YALSA Quick Pick for Reluctant Readers, Romantic Times Reviewers' Choice Award, the Prism, Holt Medallion, Daphne du Maurier, Booksellers' Best, and the Laurel Wreath. PC is an experienced teacher and talented speaker. Ms. Cast lives in Oregon near her fabulous daughter, her adorable pack of dogs, her crazy Maine Coon, and a bunch of horses.


Author Interview
Hi Phyllis, Firstly thank you so much for taking the time to answer my questions, I love your House of Night series and feel really privileged to be interviewing you! Enough fangirling and off to the questions…
1. What were your inspirations behind The New World trilogy? It is very complex, world building is amazing, so it's nice to have a bit of insight on how it came to be, the series we love today.
Tales of a New World was inspired by my relationship with my personal protection canine, Badger, and my love for fantasy - as well as my desire to deal fictionally with a society that allows hate to lead it. When hate leads, whether it's fiction (this series) or nonfiction (what's happening in the USA today), that society crumbles and can only be saved when people stand up with love and integrity and work to create change, which is exactly what Mari, Sora, Nik, O'Bryan, and the rest of the Pack are doing in WIND RIDER!
2. Seeing as illustrations were prominently featured, are you an artist yourself?
My father is a fantastic artist, so I've been raised with a great respect and appreciation for art. Personally, I love it when books are illustrated! I very much enjoy seeing how my world is translated through the eyes of someone else.
3. Your books always have some mythological elements, what is it about mythology that draws you?
Probably the endless possibilities.
Mythology is very often paired with magic, and I love that adding a paranormal aspect to any plot opens the world and the characters' choices.
4. If you were ONE person/animal in mythology, which would you be and why?
Epona, Celtic Goddess of Horses!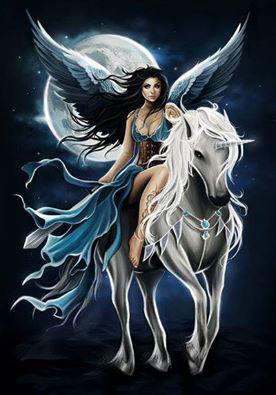 Source: All Poetry
I'm of Celtic origin (my family moved here from Wales in 1748) and have been a horse nut for as long as I can remember, and I've long felt close to Epona.
5. I know that Zoey from House of Night was originally based on Kristin, ARE Leda and Mari based on you two as well?
I'm personally very close to my Mother too and so this mother & daughter relationship really drew me in. Well, I didn't intentionally create Leda and Mari to reflect Kristin and me, but my real world (including real world people) constantly creeps into my writings, so there are definitely aspects of our relationship in the book.
6. How's your writing process differ from when you write solo to when you write with Kristin?
First, let's be clear about what books Kristin and I actually coauthor - NOT the House of Night books. Kristin serves as my frontline editor for HoN, but I do all the writing. We have coauthored a new series, THE DYSASTERS, debuting the last week of February 2019, though.
When I write with Kristin she and I come up with a book idea and then we create characters, which we divide up between the two of us. Then we outline the entire book in general terms before going back and outlining it chapter by chapter. Whomever writes the chapter depends on which character is at the forefront of it. Example: In THE DYSASTERS one of my characters is Tate, so when Tate gets most the action (or dialogue) in a chapter, I write it. One of Kristin's characters is Foster, and when she's taking the lead in the chapter, Kristin writes that one. It may sound confusing, but we're used to working together and we enjoy it! When I write by myself my outline is MUCH less detailed and it changes A LOT more.
7. This series are quite long books, how long does it take for you to write its draft?
About one year. Sometimes less, depending on what else I have to write that year!
8. How hard was it to write characters like Thaddeus and Dead Eye?
It's disturbing to write them, but not difficult. Sadly, I have many examples of badly behaving men in power to use as templates...
9. Tales of a new world in 3 words
Terrifying, hopeful, epic!
10. As The Tales of a New World comes to a close, what will you be working on next? Can you give us a little preview of what it would be like?
There will be at least one more book in the Tales of a New World series.
Kristin and I have a new coauthored a YA paranormal series titled THE DYSASTERS releasing the last week of February 2019. It's an awesome new superhero multiverse that we can't wait for fans to get their hands on!
Then in July 2019 the third book in the House of Night Other World spinoff releases (there will be a total of four of those new books). Right now I'm juggling ideas for three new series and trying to narrow them to my absolute favorite. I have to decide between a couple magical ancient Celtic stories or something contemporary and paranormal...What do you guys think?
About The Book
Wind Rider
by PC Cast
Series: Tales of a New World #3
Publisher: Pan Macmillan Australia
Publication Date: October 16, 2018
Genre: YA Fantasy
The third novel in the compelling 'Tales of a New World' trilogy by New York Times bestselling author P. C. Cast.




Mari, Nik, and their newly formed Pack are being hunted. Thaddeus and the God of Death will stop at nothing until they are obliterated from the earth. But Mari and Nik have one goal: to reach the plains of the Wind Riders in order to band together to stop Thaddeus from destroying all that Mari and Nik hold dear.




But will the mysterious Wind Riders accept the Pack, or will Mari and Nik and their people be rejected by the mighty Riders and be forced to flee for their lives? And what happens when a rogue Lead Stallion gets too close to the Pack, rejecting all Wind Riders and turning to a stranger for companionship instead?




'While many fantasy series style themselves as epic, this one may actually be worthy of the description.' School Library Journal




'Cast ... easily engages the readers and keeps them wanting more ... a wild journey of power, unlikely relationships, betrayal and acceptance.' Gold Coast Bulletin