Find Me...
Ratings
Saturday 16 June 2018
The Sunday Post is a weekly meme hosted by Kim @ Caffeinated Reviewer. It's a chance to share news~ A post to recap the past week on your blog and showcase books and things we have received. Share news about what is coming up on our blog for the week ahead.


Life Beyond Books
Blogging and reading...still slow. The weather has been really changing and winter is in full force in the Southern hemisphere and I am very much a summer person, so I've been very unmotivated.
The Week Gone By
The Week Ahead
This is a tentative guys, but I am hoping to have:-
The Last Summer of the Garrett Girls by Jessica Spotswood ~ Author Interview & Review
The Lies They Tell by Gillian French ~ Review
Stacking The Shelves is all about sharing the books you are adding to your shelves, may it be physical or virtual. This means you can include books you buy in physical store or online, books you borrow from friends or the library, review books, gifts and of course ebooks! Will also be linking up to Mailbox Monday. All books are linked to Goodreads, if you want to add to your shelf.
Thank you Simon & Schuster Australia for sending me a copy of Save the Date by Morgan Matson! So very excited to have received this, was definitely one of my anticipated release for June.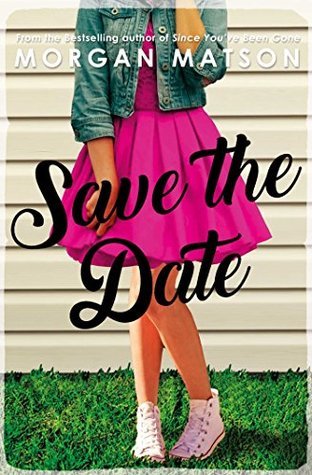 I only had the ACOTAR series in my ebook reader, so when I saw this for only $24, I was sold, and of course, couldn't get this without getting A Court of Frost & Starlight.
My Lady Jane was only $1.99 US for Kindle so I got this too. Illuminae was also on $1.99 US for a limited time, great bargains!
Recently Finished
I've been that dreadful I have YET to finish a book this week...I know terrible.
Currently Reading
Save the Date by Morgan Matson
Cruel Prince by Holly Black
Echoes by Alice Reeds
Book Blogger Hop is hosted by Ramblings of a Coffee Addicted Writer. Each week the hop will start on a Friday and end on Thursday. There will be a weekly prompt featuring a book related question. The hop's purpose is to give bloggers a chance to follow other blogs, learn about new books, befriend other bloggers, and receive new followers to your own blog.
This week's Question?
You have just won a $100.00 Visa gift card. Will you spend the entire amount on a rare collector's edition you have always wanted, or buy several newly-published books? Explain your choice.
I had won a giveaway not that long ago, granted it was not $100, but $50 worth of books was just as good, and I had the same thought. Do I buy ONE Harry Potter Illustrated or do I buy a series? Suffice to say, I chose a series.
I don't even know my reasons for choosing one over the other, the only thought that came to mind between the two were...I'd like to wait till all books are released and hope that they will have a box set for the illustrated.
If there weren't that many books on my wishlist, I'd definitely get a limited edition over a few books.
(Suggested by Maria @ A Night's Dream of Books )
Next Week @ Book Blogger's Hop
For all of you worker bees out there! How do you balance having a day job/career and managing your blog at night? Is it hard or easy to do, and what do people in your work life think of your blogs?
How about you guys? Do you prefer special limited edition to a few newer release? Also does anyone else get lazy when the cold hits?