Tuesday 23 June 2015


My Favourite Top Ten topics in the last 5 years
The first 6 are linked to my posts, the remaining 4 are linked to The Broke & The Bookish post for these topics as I haven't done a post for these yet.
I was going to do a Top 5 to honour the 5th birthday of this great meme, but I couldn't cut the list down to 5 as there are so many fantastic topics! Looking forward to reading everyone else's favourites, and of course if there are topics that you'd think would be great but isn't listed as yet, suggest away by emailing The Broke and The Bookish team at brokeandbookish@gmail.com.
Next week @ Top Ten Tuesday
Top Ten Books I've Read so far in 2015
Source: Beckoned by Books
Grab your current read
Open to a random page
Share two teaser sentences from somewhere on that page
Be careful not to include spoilers (make sure what you share doesn't give too much away. You don't want to ruin the book for others!)
Share the book info so that other TT participants can add the book to their TBR list if they like the teasers.
~ Teaser ~
"So, you're allergic to eye contact."

"I'm allergic to everything contact."

"No you're not," he says at once. "You're not allergic to brain contact. I mean, you write notes. You talk. You still want to talk to people, you just can't. So your body needs to catch up with your brain."

I'm silent for awhile. No one's put it like that before.
Sophie Kinsella is one of my all-time favourite Authors before I started blogging, not saying she is no longer on my Fave Author list, but she was there when that list was very very short. So you can imagine my excitement when I saw that one of my fave Authors wrote a YA novel which is my fave genre...so I was not about to pass up the chance to review Finding Audrey, and I am certainly not disappointed. It is slightly different from her normal tone, but I'm still loving it. Review is soon to come, so stay tuned.
About The Book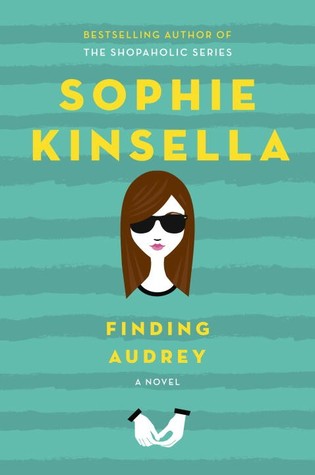 Finding Audrey
by Sophie Kinsella
Publication Date:
June 9, 2015
Publisher:
Delacorte Press for Young Readers
Genre:
YA Contemporary
From the #1 New York Times bestselling author of the Shopaholic series comes a terrific blend of comedy, romance, and psychological recovery in a contemporary YA novel sure to inspire and entertain.

An anxiety disorder disrupts fourteen-year-old Audrey's daily life. She has been making slow but steady progress with Dr. Sarah, but when Audrey meets Linus, her brother's gaming teammate, she is energized. She connects with him. Audrey can talk through her fears with Linus in a way she's never been able to do with anyone before. As their friendship deepens and her recovery gains momentum, a sweet romantic connection develops, one that helps not just Audrey but also her entire family.