Saturday 13 July 2013
The
15 Day Book Blogger Challenge
is created by April at
Good Books and Good Wine
. Daily for the duration of 15 days each blogger participating will post their reply to the corresponding topic above. April will post up her daily response along with a linky so that participating bloggers can leave their own link to their daily post. Click on the event banner or linky above for more information or to sign-up.
Here's my Book Blogger Challenge Responses:
Day 3 Blogging BFF
I'm yet to have a Blogging BFF in the literal sense of "Best Friends Forever" as I haven't been active in the book blogging community for that long. I also live in Australia where there aren't as many book bloggers or as many meet ups and events for us to congregate and get to know one another.
Therefore I will answer this topic by introducing you all to a few book bloggers that I'd like to think are growing friendships, for me anyway, in the blogosphere. You never know, one day one of the following ladies may just end up being my Book Blogging BFF!
Kim has fast become one of my favourite book bloggers as she's extremely patient, helpful and approachable. I'm able to email her with questions, whether it's to do with one of her events eg. Clean Sweep ARC Challenge or just a question regarding HTML coding for Blogger or anything for that matter and she quickly replies and doesn't mind clarifying things for a newbie like myself.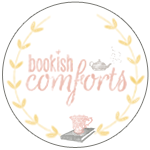 I only recently "met" or lets say corresponded with Rachelia from Bookish Comforts when I participated in the TBR Reading Challenge Read-along that she co-hosts. I had not participated in a Read-along before and so she was extremely patient with my questions and I really enjoyed discussing our June Read-along book, Hourglass by Myra McEntire with her.
Molli from Once Upon A Prologue is just so sweet! I had commented randomly on several of her posts and was amazed when I received such a heart-felt reply back that I truly felt like a very important visitor to her blog.
Lisa from Read Me, Bookmark Me, Love Me. She's one of the first bloggers that I communicated with outside of the commenting on blogs and she was so very helpful in showing me the way, because of Lisa I was able to do my first giveaway successfully.
Day 4 ~ Books Flung Across The Room
I'm yet to literally fling a book across the room, but the times when I have wanted to, it wasn't because of dislike for the book but because I loved it but it had a cliffhanger ending. Yes, I want to fling it across the room because I'm frustrated that I can't find out what happens next right now!
However, for the purpose of this answer, I think "flinging" a book across the room is meant to mean I didn't like the book, I couldn't think of any, so I checked my Goodreads library and this is what I came up with. Click on the book cover to view my review of each book on Goodreads.